{{ product.metafields.spr.reviews }}
Customer
Yesterday, I received it and tried it first time. I soaked my feet in the solution of sea salt and baking soda and after that I so much surprised to see how much dead skin was coming off with just a few gentle strokes. Look at the pictures. And I didn't even try my callus remover gel which I bought and was planning to apply next. I realized for the first use it is enough or it could be too much and I could get sore.I had inferior products before like pumice stone, etc. that did nothing in comparison. This is durable, well thought of, thoroughly researched and designed with best attempts to satisfy a customer product. Gush, how I even lived without it all this years. I can feel how my feet are breathing now! It is so worth those several extra bucks you spend to avoid the disappointment of buying inferior quality junk.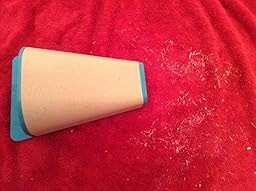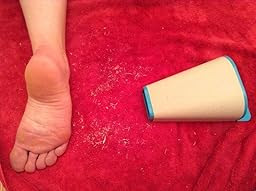 Customer
 I know you are a start-up company as I saw your product being advertised on The Today Show.  I hope it is a huge success.  I choose your product as the winner because I have Rheumatoid Arthritis and have very restricted bending capability, hence my feet are a mess.  I hope your product helps me.  I do not go for pedicures as I am ashamed of my feet.  T.W.
Customer
I will do everything I can here in Texas to promote the PediSand...I have severe diabetes,so I'm a fanatic about my feet and work on them everyday because the insulin dries skin so horrible not to mention the heat in Texas and sandals and flip flops. Kathy
Customer
I LOVE my PediSand. I use it all the time It's simple to use and the most effective home foot file I've ever used! I will never have to go back to the salon to get a pedicure! I can do it in the comfort of my home. This product is amazing and I hope you will give it a try SOON. It's also the perfect gift for someone who is unable to bend over to smooth their feet.... it's ergonomic design is easy to use for everyone.
Thank you PediSand!
Customer
I bought a Pedisand, a few months ago, and I love it! I especially like to soak in the tub for a while and then use it because the skin comes off even easier! I've never seen a foot product that is this effective! Very impressed with the quality of this item!
Customer
This product is great! I use it as soon as I get out of the shower so my feet are moist. It takes off all my calluses and makes my feet feel so soft! I would definitely recommend this product.
Customer
"
Wish I had taken a before and after picture, unbelievable. A good little workout too - using leg muscles uses much more power than using a hand held foot file or pumice stone, and the shape of the Pedisand helps to get around the curves of my feet. I was shocked at how well this worked! Put on Shea butter and socks afterwards and my feet are soft and lovely. Not embarrassed to show my feet any more! Would love a smaller version (large crayon size, with a tapered cone end) with the same grade of abrasive, to use in between toes and fingers, on rough elbows, etc. Thanks for a wonderful product!
"